A Tribute by
Nilangshu Haldar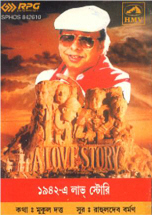 1942 - A Love Story
The songs of this film was remade with Bangla lyrics by Mukul Dutta. This album was released after RD passed away.
Track
Singer
Ek Konnya Ke Dekhe
Kumar Sanu
Ae Cholaar Kono Shesh
Shivaji Chatterjee
Kicchu Bolo Naa
Kumar Sanu
Kicchu Bolo Naa
Lata Mangeshkar
Awchenaa Laagchhe
Kavita Krishnamurthy
Rimjhim Rimjhim

Kumar Sanu

Kavita Krishnamurthy
Note : These songs have been included in the list of basic Bengali songs in Nerurkar's book.Since these are remakes of the Hindi originals using the original music tracks, these songs should be treated as remakes, and should not appear in the basic song list.